DIY APP
Great ideas. Useful Materials.
A community built for sharing.
DIY App is a peer-to-peer platform catered towards do-it-yourself projects. Consisting of two categories, projects and materials, DIY allows for projects to be shared with detailed instructions and materials lists. Additionally, people who are disposing of different materials can post them up for adoption, and see what others are making out of them. The app is constantly tracking both databases, pairing available materials to projects that use them. DIY allows users to source both materials and projects locally for free.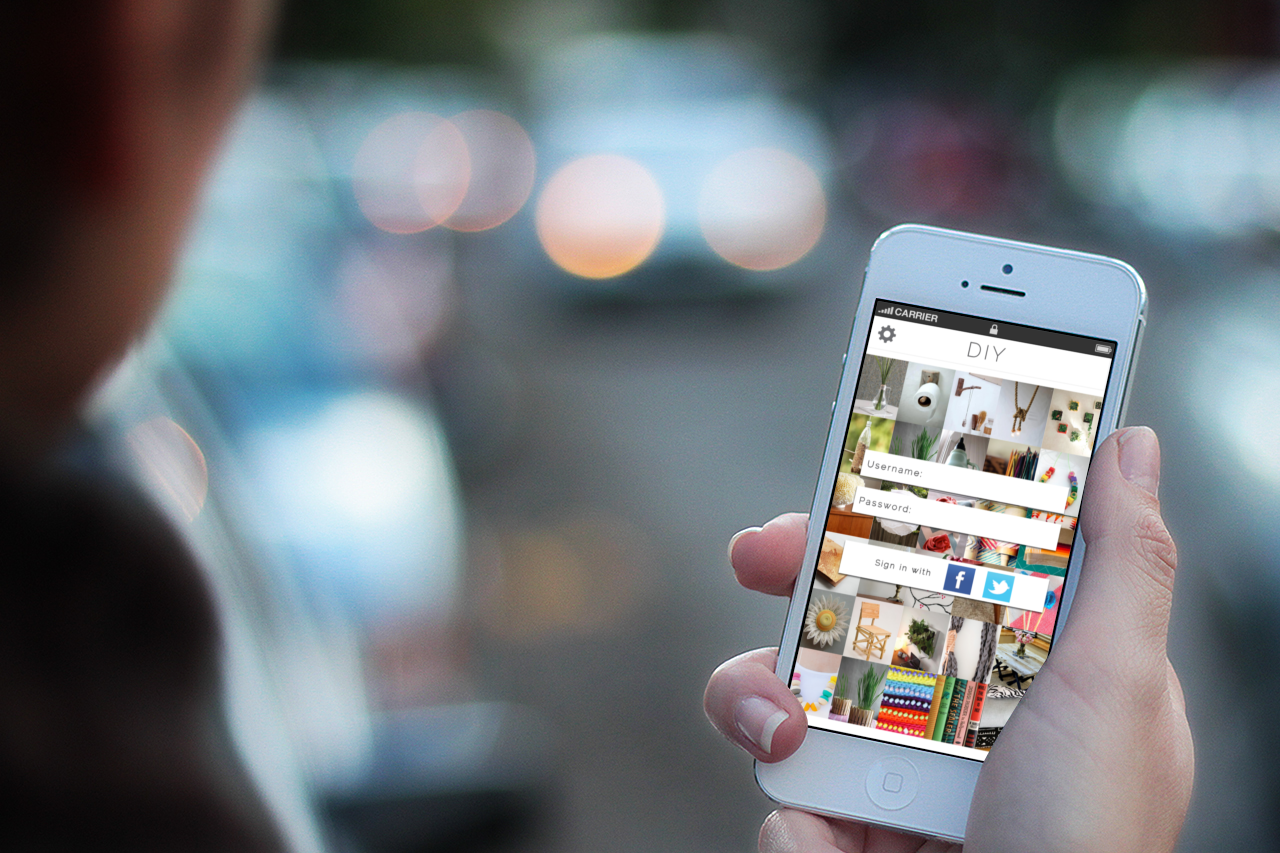 Context
Using interactive contemporary mediums, how can we promote more making and sharing, a sense of capability, empowerment and curiosity?

Innovation in design is about discovery. It is our curiosity that motivates us to re-purpose things and create new ones. The beauty of finding a different use for objects is our natural instinct of applied understanding and critical thinking. Do-It-Yourself projects are the best representation of this maker mentality, now so common within the design world. It is fascinating how people create new objects from pre-existing ones and have the ability for things to serve multiple purposes. DIY projects have become increasingly popular through the years seen everywhere in the Internet through websites such as Pinterest, Tumblr, even Facebook. The issue is that there is a need for a dedicated space for them, that really exemplifies this culture of collaborating and innovating with accesible materials.
Looking at the whole process of how people go about doing the projects through the users point of view made evident the necessities of DIY the culture and how it functions. Focusing on the structure of how these projects are made, specific moments were targeted to allow for interactions to enhance the experience of people, and of the app.
It became evident that the interface had to be very visual and its nature as minimalistic as possible focusing directly on the projects and those who created them. Each different area would build off from the next and develop an intricate system linking projects to materials, and allowing to people to communicate within the app, and have access to ratings.
Understanding the culture
The Makers
These are the people who create most of the DIY projects. They are very passionate about sharing and passing on their knowledge, and live for this new culture of empowering people to get more involved in making.
The Doers
These are the people who are not so interested in being innovative but rather love making these objects. They love purchasing the materials, and building things themselves, and have a personal touch in everything they own.

 
The Others
These are the rest of the world who either has no idea what DIY is, does not know they like it, or have never felt inspired to contribute or become a maker. This area was divided further into:
The suppliers - people who dispose of items because they don't know what to do with (most of us.)
The spectators - curious individuals who never feel compelled to join and are more of a watching crowd.
Problems
Although the

DIY community is a growing culture, it is scattered around the web, without a central space for enabling users and visitors to participate and connect easier, while sourcing what they need to make such projects.

Users are disconnected from designers, and there is no established form for showing these projects or connecting with those that make them.

Materials are often very particular and hard to find or are literally lying around without realization either being disposed or regarded as trash.
The process of DIY is fundamentally co-creative, yet the DIY culture is secluded and not very inspirational or interactive.
Opportunity
By enabling communities to connect through these projects, a common sense of collaborative making is created through a sustainable approach. With the growth and permanence of mobile markets, an app and website platform is the most viable way for the DIY community to flourish.
Goals:
Allow MAKERS to connect
Allow DOERS to inspire MAKERS
Credit the MAKERS and designers
Inspire SPECTATORS and SUPPLIERS
Develop an evocative system for sharing projects
Integrate material sourcing and searching
Evoke a curiosity to preparing and repurposing
Make DIY projects more approachable
Designing the app
Once the concept was developed, these ideas were brought to life mocked up in crude paper prototypes to make the product tangible. After constructing the initial design, interactive mockups were built in Balsamiq and tested with target users, going various levels of refinement before finalizing the final design.
 
A very special thanks to Michael Felix.
2012